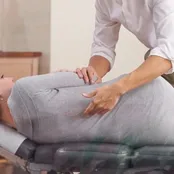 Chiropractic Care
Chiropractic is a healthcare practice that specializes in the diagnosis and care of musculoskeletal (muscle and joint) and related neurological disorders. A Doctor of Chiropractic (DC) is trained to utilize manipulative therapy (also referred to as "adjustments") of the spine and extremities, as well as therapeutic massage, rehabilitative exercises, physical therapy modalities, and nutritional recommendations in their approach to patient care.
---
Medical Care
Medicine is a healthcare practice, utilizing non-invasive procedures (e.g. EKG, oral medication and nutritional supplementation) and invasive procedures (e.g. blood test, injection and intravenous therapy) for the examination and treatment of illness and injury. A Medical Doctor (MD) may obtain specialty training, which provides opportunities for gaining experience and proficiency in certain areas, such as internal medicine, emergency medicine and preventive medicine (e.g., occupational health).
---
Physical Therapy
Physical Therapy is a healthcare practice that can help people rehabilitate from devastating injuries, manage chronic conditions, and create healthy work and recreation habits to prevent further complications. Doctors of Physical Therapist (DPT) can evaluate the level of a current impairment, functional limitation or disability, and then select the appropriate therapeutic procedures and hands on instruction for achieving the patient's goals.
---
Psychotherapy

Psychotherapy is essentially a carefully-tailored series of conversations between therapist and client, the goal of which is the improvement in emotional and psychological well-being of the client. Good therapy is a collaboration between therapist and client; it ultimately provides release and relief by tapping into previously unavailable resources for healing. In this way, the capacity for creative thought and action is renewed, and new skills are easier to learn.
---
Acupuncture

Acupuncture is a Chinese Medicine healthcare practice. It is a technique in which specific points on the body are stimulated—most often by inserting thin, stainless steel, sterile needles through the skin. Acupuncture can treat musculoskeletal problems, neurological conditions, digestive disorders, and emotional imbalances. In addition, it can address addictions, auto-immune diseases, skin complaints, respiratory issues and so much more.
---
Massage Therapy
Massage is the practice of soft tissue manipulation, including effleurage, petrissage, friction, tapping and vibration. The benefits of massage therapy can include increased blood circulation, reduced swelling, relaxed muscles, decreased pain, decrease in mental/emotional stress and improved range of motion. Massage therapy can complement other forms of therapy to allow the body an opportunity to balance stress and heal itself.